The clocks have gone back, the nights are drawing in, and winter feels like it has arrived. At this time of year, you're more likely to be driving in the twilight or dark. For some, this makes driving difficult, possibly even dangerous.   Data from the Royal Society for the Prevention of Accidents (RoSPA) shows each year, when the clocks go back, there's a spike in the number of vulnerable road users killed or seriously injured. In fact, 40% of all collisions happen when it's dark*.
One reason for this is that our eyes are not good at seeing at night. When it's dark, our depth perception, peripheral vision and ability to distinguish colour are all diminished. And these changes are even more marked at twilight when our eyes have to constantly adapt to the growing darkness.
Drivers have to process an array of information instantly from both inside and outside their car.   People are also often dazzled by the glare from headlights, brake lights and reflective surfaces.  Recent changes to the types of headlights used and the increasing number of SUV's can result in the perception that car headlights are brighter and more annoying due to the higher light positing in SUVs.
In addition, as we grow older, our eyes become less able to react quickly to changes in light. Between the ages of 15 and 65, the time it takes to recover from glare increases from 1 to 9 seconds.*  These few seconds can mean the difference between staying safe and disaster.
Furthermore, the dazzle from glare can be even worse if you wear prescription glasses, especially strong prescriptions. As the lenses reflect light, less light reaches your eyes, making it harder for you to see clearly.
However, there are solutions to make your night driving safer.  SEIKO have developed both the single vision Drive lens and the Drive X progressive, complemented by the RoadClearCoat anti-reflection lens coating.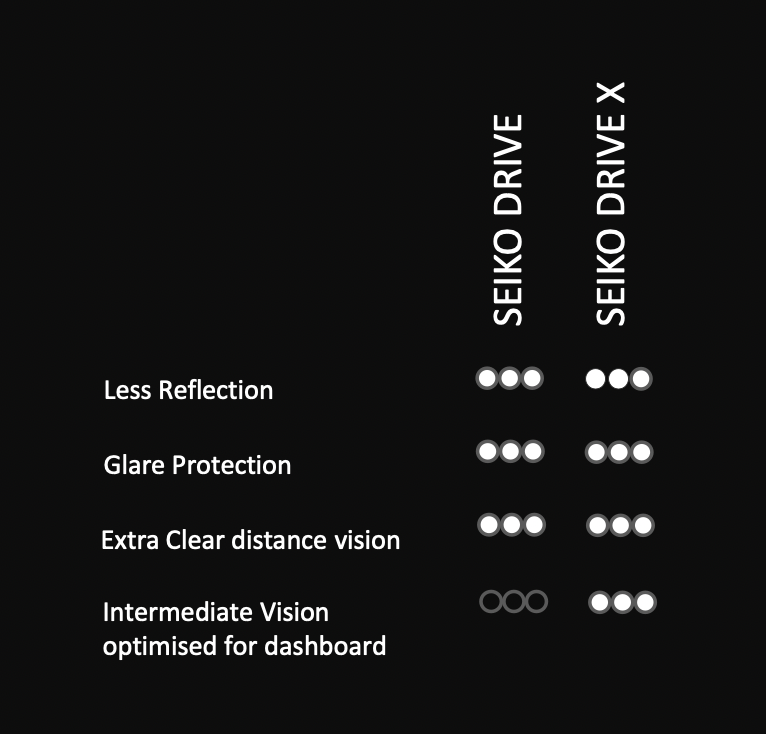 SEIKO DRIVE Lenses
SEIKO DRIVE for single vision lenses are optimised to give you clear vision from the centre of the lens right to the lens edge, essential for driving as you rely on good peripheral vision. The single vision lenses increase definition for your distance vision and reduce blurred edges when you change your direction of gaze, helping to improve depth perception and image processing speed, critical factors when reaction times are crucial.
SEIKO Drive X Progressives
SEIKO DRIVE X are ideal if you use progressive (multifocal) lenses.  SEIKO Drive X lenses optimise your immediate field of vision so that you can clearly see your car's dashboard instruments and controls.  They also give you wide clear distance view for extra sharp vision.
SEIKO RoadClearCoat
Both the Drive and Drive X come with RoadClearCoat, SEIKO's advanced anti-reflection coating.  Developed for driving in low light or adverse weather conditions, SEIKO RoadClearCoat reduces troublesome glare and reflections from oncoming traffic, wet surfaces and other inconveniences, giving you a clear view so that you can reach your destination safe and sound.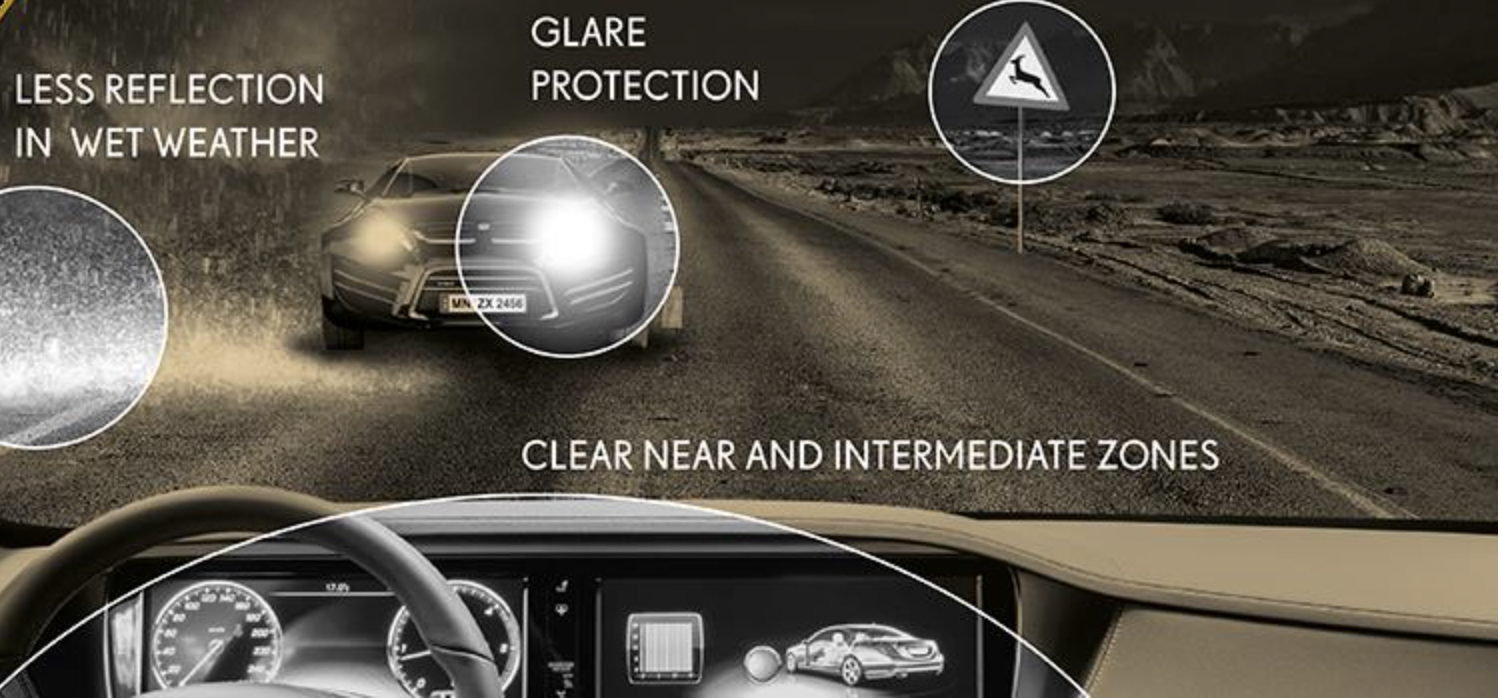 Our advice for safer night driving
If you struggle to drive at night, come and talk to us. We can advise you on the best lenses for your needs.
In the meantime, you can stay safe when you drive at night by following our top tips
Visit your optician for regular check-ups. They'll be able to pick up any problems that may affect your night vision.
Only wear distance glasses or contact lenses that are up-to-date.
Never wear tinted lenses that do not comply with British standards when you drive at night.
If you can, dim your dashboard lights to reduce reflections inside your car.
Keep your windscreen clean inside and out to avoid increased glare and condensation.
Don't dazzle! Dip your lights when another car is coming towards you. And make sure your headlights are working correctly.
Help drivers see you in twilight by turning your headlights on before sunset and keeping them on for an hour after sunrise.
Watch out for pedestrians, especially near schools and around pubs and clubs at closing time. 
If you would like more information or advice, please call us on 01628 663055 or pop in and see us. We'll be happy to help.
For more information visit:
* RoSPA  https://www.rospa.com/media/documents/road-safety/factsheets/driving-at-night-factsheet.pdf
SEIKO  https://www.seikovision.com/uk/lenses/drive/