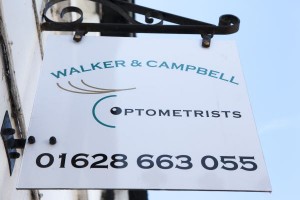 Please allow plenty of time for your appointment. It may take another 30 minutes after your eye examination to select your spectacle options with the optician.
Appointments can be made by telephoning the practice on 01628 663055, by coming in in person, or by sending an e-mail to reception@walkerandcampbell.co.uk
We do require 24 hours notice of cancellation otherwise a charge may be made. As we are a busy practice we are not usually able to offer same day appointments, except of course for emergencies.
Parking
Parking is available in Jennery Lane behind Tesco or Summers Road.
Welcome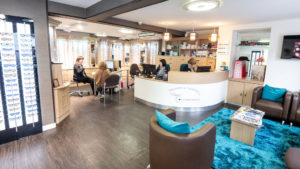 When you have entered the practice you will be greeted by one of our four experienced reception staff. You will be invited to browse at the frame selection or have a seat in the waiting area, where magazines and newspapers are available to read. If it is your first visit to the practice, we will ask to see any spectacles being used. Please also bring along with you a list of your current medications.
Introduction to your Optometrist
The optometrist will introduce herself and ask you into the consulting room.
Eye Examination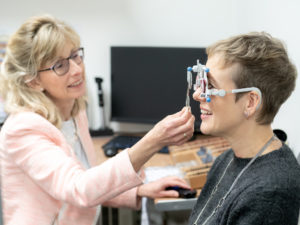 The optometrists will take a detailed history and symptoms from you. She will perform many tests to check the health of your eyes and to illicit the correct glasses or contact lens prescription. These tests will all be explained as you go along. Please see our separate page on Eye Examinations for more details. The optometrist will then summarise everything and make any recommendations regarding you glasses, contact lenses or referral to your doctor.
Choosing your Frames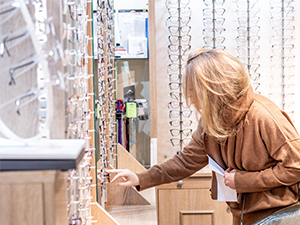 When the examination is completed, you will be introduced to a member of the dispensing team, who, as a qualified optician, can give you guidance on what lens choices are available and what frames would suit you and your prescription type.
The experience of a Dispensing Optician, and advice on lens type and frame suitability, should be taken seriously, as they see many face sizes, shapes and lens combinations, and their recommendations will leave you clear about the decisions you have made.
Ordering your Glasses
You will be telephoned or texted when your glasses are ready for collection, and an appointment offered. On collection of the spectacles they will be fitted by the dispensing optician and advice can be given about caring and cleaning the finished spectacles, to obtain maximum benefit from the appliance.