We feel it is important to spend time examining your eyes and discussing your requirements, therefore an eye examination will typically take 40-60 minutes. Our fees for private eye examinations reflect the high quality of our resources, the extensive leading edge technology used by our optometrists and the extended time required for the comprehensive procedures involved. We are committed to the ongoing professional development and training of all our staff including our optical assistants, fully qualified dispensing opticians and optometrists.
We have 3 levels of Eye Examinations
The Basic NHS Sight Test
The Comprehensive Eye Examination which includes a digital retinal photograph, dilation and Slitlamp Examination.
The Advanced Eye Examination which includes all of the above plus an OCT scan.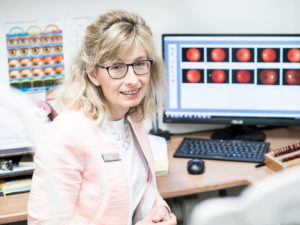 Our optometrists strongly recommend the Advanced Eye Examination to all our patients over 40 years old. We feel this provides the best level of clinical care.
The attached table on Our Eye Examinations Page will explain the differences and benefits between the types of examinations we offer.
We are committed to the NHS and will continue to accept applications from NHS patients. However, we are keen to encourage all patients to extend the scope of the NHS Sight Test to the higher standards provided by our private eye examinations. Accordingly, patients eligible for NHS help will be encouraged to upgrade by paying an additional fee. This fee provides extra services, such as dilation or retinal photography, which we believe are essential for a comprehensive eye examination but which are not currently included in the NHS sight test.
If you do not wish to take up the comprehensive eye examination and opt only for the basic NHS test please advise us at the time of booking the appointment.
Certain groups of patients may not require the extended examination for example children or patients already having treatment within the Hospital Eye Service e.g. for glaucoma or diabetes.
Choosing your spectacles may take from as little as a few minutes to much longer. We offer an excellent selection of luxury and designer eyewear along with contemporary and classic styles to suit all ages and budgets. We encourage you to spend as much time as you need with our fully qualified Dispensing Opticians to find the right spectacle frames for you and to discuss the best lenses to suit your needs and prescription.